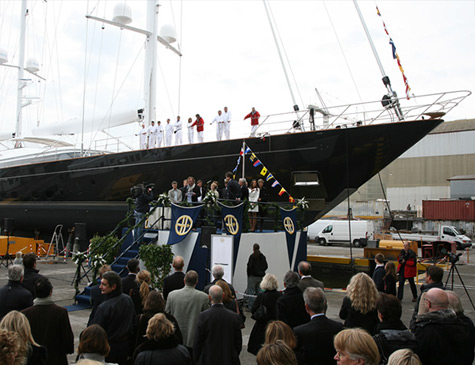 The Perini Navi Group, world leader in the construction of luxury sailing and motor yachts presented their new 56 meter sailing yacht. Superyacht Panthalassa has become the 47th unit in the fleet and number eight in their 56 meter series.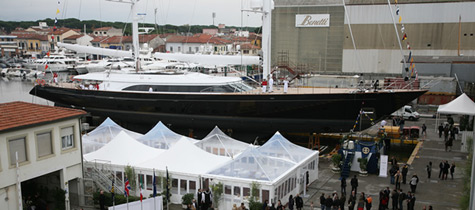 The yacht was designed by Perini Navi's in-house naval architects together with Ron Holland. The aluminium superstructure design improved aerodynamic characteristics of the boat in comparison with the previous yachts of this series. The ultra-light streamlined aluminium hull with maximum displacement optimized at 540 tons guarantees both excellent sailing performances and extreme comfort. Both aluminium masts, mizzen and the furling boom in carbon fibre were constructed by Perini Navi Group Mast Department.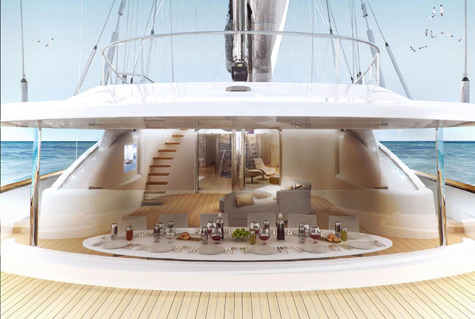 The interiors of the new sailing yacht were designed by Foster + Partners. The accommodation is arranged to provide a range of spaces, from smaller, more private retreats to flexible, open living areas. The deck features a variety of places to relax and an informal outdoor eating area, complemented by a more formal dining space inside. The three levels – a fly deck, the main saloon and the guest and crew quarters below – are connected by an oval stair, which is surrounded by light-reflecting acrylic rods to mirror daylight back into the living areas.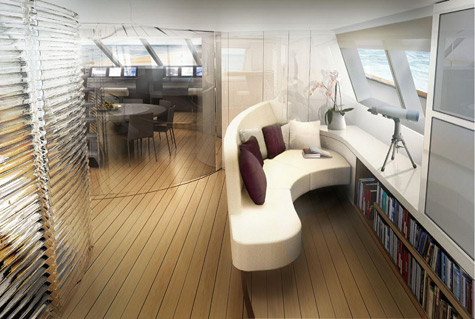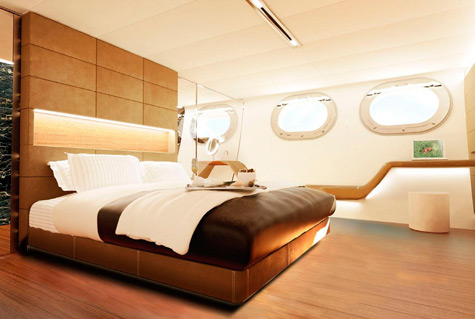 David Nelson, a senior partner and Head of Design at Foster + Partners, said: "In designing the yacht, we were very keen to bring natural light into the saloon and to create interior spaces that offer the choice between privacy or a more social experience. Partitioned with electrically operated glazed screens, the saloon can either be divided or unified into one large function room, and the stairwell acts as a dramatic light reflector to enliven and illuminate the space."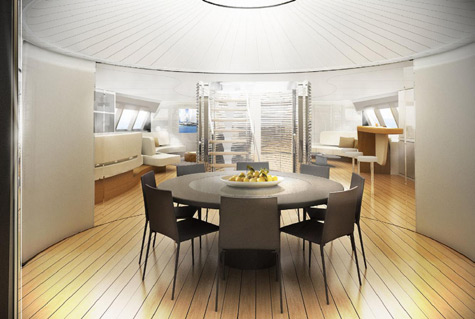 Besides the 56m series, Perini Navi's production plan 2009-2013 will include two 45m steel sailing yachts; the second of the very successful 38m performance sailing yacht series constructed in Sealium, an aluminium alloy; one 59m sailing yacht and three motor yachts: a 50m, 55m and a 73 meter in the new Vitruvius series – 7 sailing yachts and 3 motor yachts in total.
Main Features and Characteristics:
Length overall: 184 ft / 56 m
Waterline length: 151 ft / 46.06 m
Beam: 38 ft / 11.52 m
Draught (keel up):13 ft / 4.95 m
Draught (keel down):32 ft / 9.73 m
Hull construction: Aluminium
Superstructure construction: Aluminium
Maximum displacement: approx 540 T
Gross registered tonnage: 497 grt
Speed at maximum continuous rating: 15 kt
Main Engines: 2xCAT C32
Fuel capacity: 53,000 litres
Water capacity: 17,000 litres
Range: 3,500 nm @ 13 kt
Main mast height above DWL: 192 ft / 58.37 m
Mizzen mast height above DWL: 157 ft / 47.97m
Total sail area upwind: 16,146 ft² / 1,500 m²
Naval Architecture: Perini Navi / Ron Holland
Interior Design: Foster and Partners
Builder: Perini Navi Group
Classification ABS: Malta Cross A1 AMS Yachting Service + MCA
* * *
Related links:
Perini Navi
Foster+Partners
Foto: perininavi.it, camperandnicholsons.com