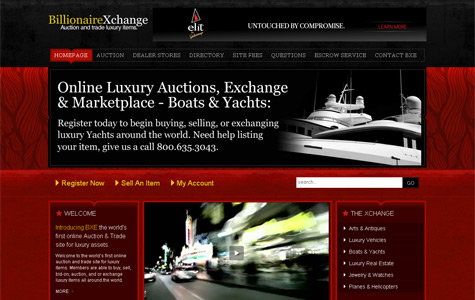 Imagine you are a multimillionaire and suddenly you have discovered that your house is full of useless luxury things: jewelry, watches, artworks, electronics. Or simply you have too many houses. Imagine that you are tired of your luxury cars, yachts or even planes. What will you do? Now you have a place where you can sell all needless luxury property online.
An internet auction site devoted to millionaires was launched officially on Monday (November 9, 2009). BillionaireXchange is the first online auction and trade site for luxury items. Members of The Xchange are able to buy, sell, bid-on, auction, and or exchange luxury items all around the world. You can trade your mansion in Beverly Hills for a Chateau in France, or your antique Rolls Royce for a new model Bentley, or your old yacht for the new one.
"Because of the current economic conditions in the U.S. we're seeing a lot of people who need to actually trade out or trade down from some of their luxury items and facilitate that transaction somewhere discreetly and privately so that they don't have to deal with the shame and or embarrassment of downgrade", – told Quintin Thompson, co-founder and executive partner of BillionaireXchange.
The company hopes to exploit a market niche between internet sales sites such as eBay and auction houses such as Sotheby's and Christie's for fine art and collectibles. The site facilitates sales and trades of everything from arts and antiques to commercial properties, businesses and foreclosed homes.
Today at the BillionaireXchange you can find a wild range of yacht starting from 100,000 USD to 49 million USD. So if you are hesitating to buy or not to buy a new yacht, go to the BillionaireXchange and perhaps your doubts will disappear.
* * *
Related links:
BillionaireXchange