ISA 390 Zero is an innovative project developed by ISA – International Shipyards Ancona. The yacht is made with an aim to get maximum efficiency with minimum carbon foot prints.
The project was developed in cooperation with Siemens SpA, for the diesel-electric propulsion system and MarQuip BV, for the exhaust system.
The 390 Zero will be able to travel at 6 knots for up to three hours on battery power alone – no carbon monoxide, no other by-products or odor. This is "zero emissions mode".
At the 14.8-knot top speed, which will be generated solely by the traditional engines, carbon-monoxide levels should be brought down by 80 percent, hydrocarbons should be reduced by 50 percent, nitrogen oxides by 20 percent, soot by 50 percent, and diesel odor by 75 percent. Also in this mode, the battery bank will be receiving a constant charge.
For further lowered levels, ISA established "low-emissions mode". The yacht will be capable of about 9 knots and see carbon-monoxide reduction increase to 95 percent, hydrocarbons reduced by 75 percent, and soot reduction at 75 percent. The batteries will be charging the entire time.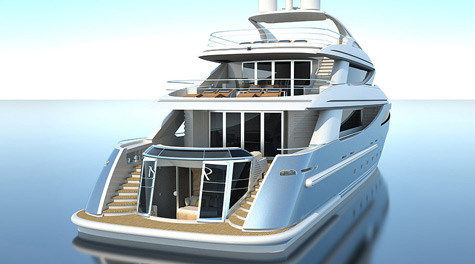 The ISA 390 Zero is designed by Andrea Vallicelli with an interior done by Studio Massari.
Technical specifications:
Construction: Steel/Aluminum
LOA: 39 m
LWL: 34 m
Maximum Beam: 8 m
Moulded Depth: 4,20 m
Displacement at full load: 343 tons
Max Speed: 15 knots
Cruising Speed: 13 knots
Fuel Capacity: 59,000 lt
Fresh water capacity: 15,000 lt
Main engine type: 2 x CATERPILLAR C32
Main engine power: 970 kW at 1800 rpm
Exterior design: Andrea Vallicelli
Interior Design: TBD
*  * *
Related links:
ISA Yachts
Studio Massari
Foto: isayachts.com