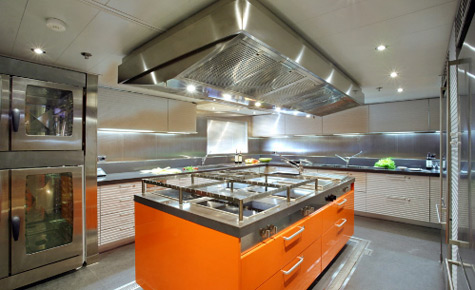 In recent years, there have been many modern advancements in luxury yacht kitchen design. The Yacht Division of Ernestomeda is known for creating glamorous, and highly functional modern kitchens for all types of yachts – particularly spacious superyachts, and exquisitely detailed luxury yachts. This particular company has been known to appeal to the Italian market, but now has achieved international interest.
They focus on the quality of the kitchen products that they create for the yachting industry, as well as ensuring that they provide competitive pricing. They work to ensure that their designs fulfill the specifications of the sophisticated and consistently changing consumer.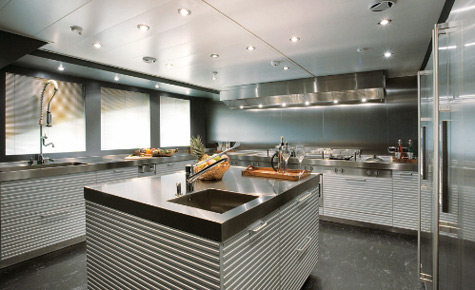 Ernestomeda provides a wide range of detail and material choices when it comes to designing the kitchens included on luxury yachts, mega yachts, and similar types of water vessels.
HP Laminate is a product that is considered to be both high in quality and practical. It is a material that has a high resistance when it comes to scratches, and various types of abrasions. Many yacht owners elect the plywood material due to the fact that it is naturally appealing to the eye and even rustic in a decorative sense.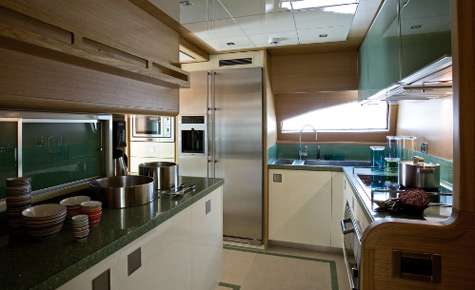 Ernestomeda also designs kitchens using a multitude of sophisticated and colorful lacquers. One of the most popular choices in design includes the veneer identified as "American Walnut". The following shades are available when it comes to kitchen yacht design: Oak, Tobacco Oak, Cherry, TK, Warm Oak, Dark Oak, Lacquered Ash (White in Color), Italian Walnut.
When your yacht kitchen is designed by Ernestomeda, you will be pleased to know that there are stainless steel variations. If you prefer the look and feel of aluminum, you may choose from this material if you want a very modern décor exhibited in your kitchen. The tops of counters and other localized kitchen accessories may be designed in beautifully natural granite, okite, stainless steel, and even marble. Many have even had their luxury yacht kitchen designed in astounding quartz.
If you are interested in a modern, customized kitchen for your luxury yacht, consider the work offered by Ernestomeda. You may choose which materials are most appealing for your yacht, details that you would like included in your kitchen, and even the amount of space that you want your yacht's kitchen to have.
Ernestomeda makes it possible for you to enjoy the modern advancements in luxury yacht kitchen design personally.
* * *
Relared links:
Ernestomeda
Foto: ernestomeda.com