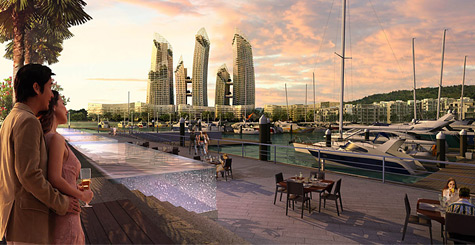 The yachting industry has started to explore the area of Southeast Asia. The idea of luxury yachting in this region has not been on the list of considerations of the industry until just recently. Viewing the area as a potentially sound investment is something very new.
The Gulf that surrounds the area of Thailand is an area that is known for the "sea gypsies". In the area of the Andaman Sea many have had a fear of sea pirates. China has a lavish span of well over 10,000 miles of land along the coast, but absolutely no interest in attracting the yachting industry. Typical luxury yachting endeavors required docking that took place in the area of the Mediterranean. Many docks emerged in the Caribbean too. However, now, enthusiasts are focusing on Southeast Asia.
It basically started in the area of Thailand. This area was taken over by a newly formed government. As a result, key government figures are outlining marketing techniques that will highlight tourism heavily. A club by the name of "Royal Phuket Yacht Club" has outlined the financial possibilities when working in luxury yachting as it has created profits that exceed $150 million.
There are many marinas that have proven to be quite successful in Southeast Asia. Examples include the "One ° 15 Marina Club", the "Marina at Keppel Bay", and the "Qingdao International Yacht Club". These marinas are known to host luxury yachts, charter yachts, and even mega yachts. Based on the success of these clubs and marinas, it is believed that Southeast Asia could prove to provide a literal boom in travel and tourism profits.
The wonderful thing about creating a major yachting venue in the area of Southeast Asia is that it will not only attract local yachting clubs and those interested in boating, but it will expand into an International yachting capital of the world. Not only does the area have the capacity as far as space, but it also has a large number of attractions on the mainland that will draw tourists in. Individuals in the yachting industry have the vision of creating yachting cruises and yachting charters that can include various travel packages that include the attractions.
As a result, there will be an economic shift for the area. Southeast Asia definitely appears to be a prime location when it comes to luxury yachting, yacht charters, yacht cruises, and more!
* * *
Foto: marinakeppelbay.com