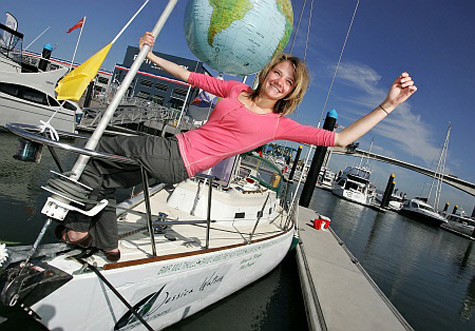 "Twenty years from now, you will be more disappointed by the things you did not do than by the things you did do. So, throw off the bowlines. Sail away from the safe harbor.
Catch the trade winds in your sails. Explore. Dream. Discover." – Mark Twain
I'm amazed by people, who travel alone. It doesn't matter if they climb the highest mountains, dive in the depths of the ocean or skydive. I think it is much more harder to do this dangerous activities alone, without moral and physical support. The fact that surprises me is that there is a growing number of teenagers, who want to travel alone. Few months ago, came news about 17 years old British teenager Mike Perham, who wants to become the youngest individual to accomplish the task of sailing alone around the world. And yesterday came news about Australian teenager Jessica Watson, who started non-stop voyage around the world.
Last week Jessica celebrated her 16th birthday and now she is going to become the youngest person to sail solo non-stop and unassisted around the world. Jessica set sail from Sydney Harbor passing the official start line of her epic journey at Sydney Heads at 9.49am. She was surrounded by small boats and kayakers, while media helicopters hovered overhead broadcasting live vision of her departure.
Jessica was excited. "I can't believe we are finally here. Today, I am going to sail around the world," said Jessica.
The attempt has provoked a debate in the country about whether someone so young should be allowed to try such a dangerous exploit. Watson (the second eldest of four children in the Watson family) and her family insist she is an experienced and capable sailor who has studied navigation, electronics and maritime safety procedures.
For the next few months the yacht will become home for Jessica. The boat S&S (Sparkman and Stephens) 34 named Ella's Pink Lady has the classic design from the famous Sparkman & Stephens. It is known for its seaworthiness, toughness and speed characteristics. The S&S 34 became famous after Jon Sanders, David Dicks and Jesse Martin used them for their history making solo circumnavigations.
Specifications of the Ella's Pink Lady yacht:
Length Overall: 10.23m
Waterline Length: 7.37m
Beam: 3.08m
Draft: 1.83m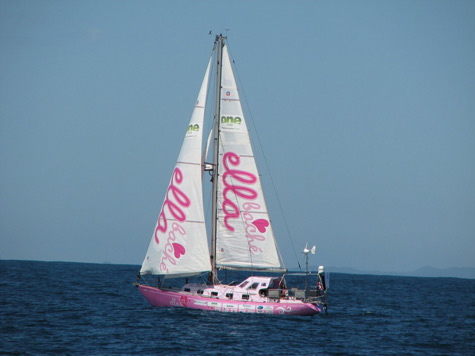 Jessica has chosen a route that is a traditionally recognized path and distance for "around the world sailors". The approximate distance is about 23,000 nautical miles (about 38,000 kilometers). During the travel Jessica will cross all lines of longitude, the equator entering into the Northern Hemisphere at least once and round the southern landmarks of South America and South Africa.
We wish Jessica good luck in her difficult and dangerous adventure.
Departure:
Tour of Ella's Pink Lady yacht: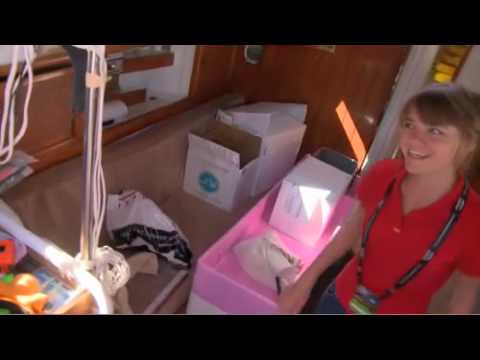 * * *
Related links:
Jessica Watson website
Jessica Watson blog
Foto: Liam Kidston, flemingselfsteer.com