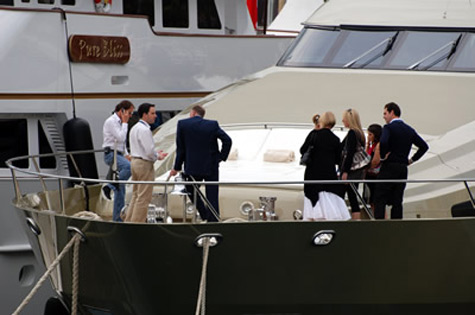 The Italian luxury yacht makers are refusing to engage in price cutting in order to enhance their sales.
Yacht production teams and manufacturers all around the world are starting to reduce the pricing associated with their products in order to increase sells. Due to the current economic challenges faced by the world luxury yacht sales has been dramatically affected. However, the Italians are not going to let the economy beat them down into a financial compromise. Instead of price reductions, they are focusing on increasing what they offer customers to enhance their sales.
In the past year, the sales associated with luxury yachts have reduced an astounding 30%. As a means of attracting potential buyers, a large number of manufacturers have elected to cut the prices of their boats between 10% and 20%. Italian yacht makers have elected to pursue a more creative means of attracting business. These individuals believe that if you offer valuable services, eco friendly yachts, and uniquely designed luxury yachts, sales will not only be stable across the board, but will actually increase dramatically. Italian yacht makers have went as far as to say that those who slash their prices due to the downslide of the economy are literally committing a form of "suicide" in sales.
Italian yacht makers are considered the most popular in the entire world. These individuals specialize in creating eco yachts, mega yachts, luxury yachts, and many other creative boating options for those that have a fascination with the yachting industry. Examples of the yachts rendered by Italian yacht makers include Azimut Benetti, and Ferretti. These yachts are known to carry built in furnishings from the beautiful and very popular collection of Fendi Casa. One will also find lavish staircases that spiral in luxury yachts, and kitchen and bathroom areas created from marble. The Italians know and understand the importance of amenities, comfort, class, and style. They also know with these, come appropriately priced mega yachts.
One of the strategies being implemented by Italian yacht makers to reduce the need to cut costs is offering more "green" options in luxury yachting. Individuals everywhere are seeking to reduce their carbon footprint, as well as the amount of money that they spend on natural fossil fuels that are required to power mega yachts. As a result, more Italian manufacturers are creating and promoting yachts that utilize natural energy created from the wind and solar power from the sun to receive their power. While these boats are typically higher priced than standard yachts, individuals know and appreciate the fact that they could save thousands of dollars a year by purchasing such a water vessel.
I personally believe that the Italian yacht makers have a valid point. Businesses should avoid attempting to undermine their profits by slashing their prices. Luxury yachts are not intended to be sold cheap – especially when you consider the cost associated with the overall construction of such a boat. This time next year, other yacht makers will be suffering tremendous financial losses and the Italian yacht makers will well exceed their forecasted financial gains. As a consumer, I think it is best to get high quality at a price than low quality for less.
* * *
Foto: Pierre Pettavino