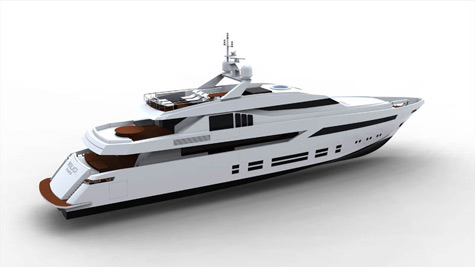 During the Monaco Yacht Show 2009 the Bolici Yachts revealed the latest project they were working on: the new company flagship – the BY160 Alloy – a real gem of technology and design, totally "made in Italy".
The 160 Alloy is a semi-displacement hull with fast ocean crossing capacity. The yacht is 48.22 in overall length featuring a 8.9 mt beam, and the overall displacement stays under 500 tons. Bolici 160 can be powered by twin MTU 16 V 4000 M91 or by twin MTU 16V 4000 M90.
The BY160 has three decks which are linked by a central stairs. General interior arrangements feature 4 vip suites and 2 guest suites with en-suite bathrooms, the crew area and a comfortable fitness area. The main deck features a comfortable cockpit, a 68 sqm living room accessible from cockpit and from both port and starboard walk-through, galley, crew mess pantry and day-bathroom.
The upperdeck is partially under the sun and it is arranged with dining area, bathrooms, side terraces, storage compartments and the helm station. The highest level is the Sun deck, where the owner and the guests can relax in jacuzzi or in a small swimming pool.
The owner suite is located in the bow of the main deck level and has double en-suite bathroom, play room, office and wardrobe room.
Interior space is enhanced by the natural light flow, which until now was mainly available on larger yachts.
All the yacht paths have been accurately designed to provide the owner and guests the utmost privacy while moving freely around the yacht.
* * *
Releted links:
Bolici Yachts
Foto: bolici-yachts.it