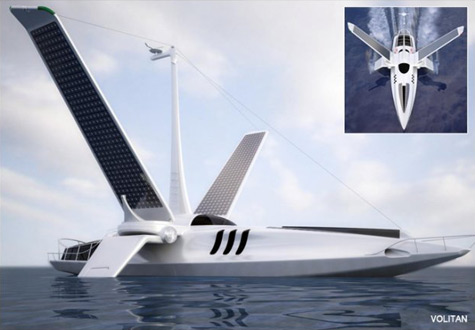 The newest addition to the line of luxury yachts that are considered to be "environmentally correct" is the amazing water vessel identified as "Volitan".
As stated in my previous posts on coverage involving the eco yachts identified as the "Soliloquy" and "N-Dour", I have been conducting extensive research on eco yachts. That is, the mega yachts that are considered to be "green" due to the fact that the design is created in such a way that there is a lack of dependency on natural fossil fuels that contribute to atmospheric pollution, greenhouse emissions, and meteorological conditions such as global warming. Once I discovered the amazing "Volitan", I gathered as much information as possible to share it here with you.
The first detail that I would like to share with you about this new, green luxury yacht is the meaning of the name. When the name "Volitan" is translated it holds the meaning of "Flying Fish". Once I observed the yacht in the various pictures on the internet, I determined that there just could not be a more suitable name for this amazing water vessel. If you observe the yacht for yourself, you will immediately see why. It actually looks like a jet or a futuristic small airplane! If you observe the boat when the sails are placed in the down position – it looks even more like a vessel that could literally fly right up from the water with ease!
Designers from Designnobis have been trying very diligently to accomplish the feat of operating a super yacht on energy derived from the sun as well as that of the wind for many years. Many creations have come close to being 100% green, but the "Volitan" is the first to actually succeed in this endeavor! If you remember, the mega yachts identified as the "N-Dour" and "Soliloquy" came relatively close to being completely independent of natural fossil fuels, but the "Volitan" is the one vessel that actually succeeded. This is actually considered to be a tremendous breakthrough in the yachting industry as far as I am concerned!
Now, let me tell you about the computer system that operates the "Volitan". This is a networked system that runs while the mega yacht is in sail. It actually grabs the power that is emitted from the sun as well as the wind and then stores it in a battery system that converts it to electricity in order to ensure that the water vessel functions appropriately. I find this to be an absolutely amazing feature and you likely will too!
The next best thing about this super eco yacht is that the external design is created to withstand even the most challenging weather conditions! The yacht also includes wings that work to stabilize the water vessel for traveling. This makes travel much easier – even in the most challenging of weather and water conditions. If you are interested in environmentally friendly luxury yachts, you are sure to love the "Volitan"!
* * *
Related links:
Designnobis
Foto: designnobis.com