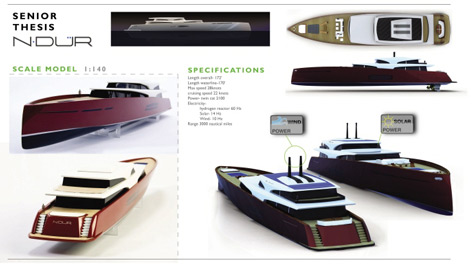 In my previous post, I covered the eco yacht that is named "Soliloquy". As you may remember, this particular yacht is designed to be environmentally friendly. In my research on the topic of green yachts, I have discovered another luxury yacht called the "N-Dour" that is also considered to be "green" when it comes to its base power technology and design.

Given the issues of atmospheric changes such as global warming and greenhouse emissions due to fuel powered vehicles and water vessels, the "N-Dour" is likely to be as big as the "Soliloquy" is. Here, I will share some information on this amazing eco boat.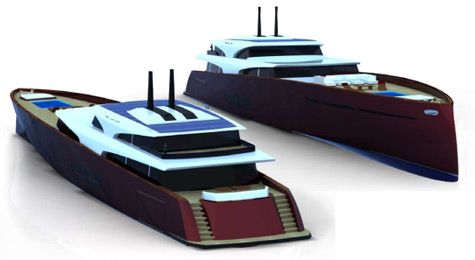 I will start in expressing details of this eco friendly yacht by introducing the designer of the "N-Dour". His name is Riccardo Pilurzu. This individual desired to create a megayacht with luxury that would actually work to sustain itself if it was on the water for a long period of time. Naturally, the main way to do this was to reduce the yacht's dependency on standard fossil fuels. In place of these fuels, it would need to depend on sources of energy that are environmentally friendly. As a result of this power source, it could be properly propelled through the water, or even create an internal energy source that could be used to power GPS systems, and other electrical devices.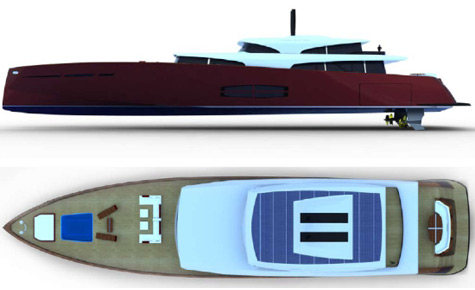 Naturally, Riccardo wanted to be able to implement the use of solar power and even power emitted from the wind. Unfortunately, based on his research, this would not be able to provide a sufficient source of energy to the water vessel – basically because of the sheer size of it as a whole. However, this individual decided that hybrid technology would work as a means of supporting the vessel to the point where it could actually sustain itself. In all actuality, it was discovered that the propulsion control center of the luxury yacht could be considered completely renewable.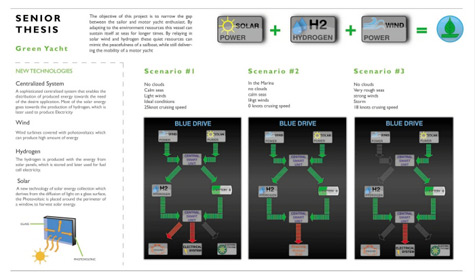 The "N-Dour" eco yacht will initially be designed with a system that will take solar power from the sun, wind power and then combine it so that it creates hydrogen. There will be a unit that is designed to take that hydrogen and convert it into enough power to propel the super yacht, and also power additional components of the luxury yacht. This electrical system will be designed to create energy even when the yacht is not being used. This power will sort of build up so that the yacht is somehow "charged" when it is used again. I would say that this will be a very valuable feature. This especially due to the fact that the user of the eco yacht is able to go idle on the water as well – especially when they need electricity.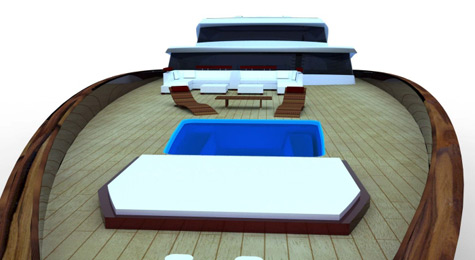 I really think that this is an interesting design when it comes to an eco yacht. I also discovered that the windows will implement the use of solar panels in order to contribute to the power of the water vessel. As the design continues, we are sure to see that the "N-Dour" incorporates many other unique features that harness the power of natural energy. If you enjoy luxury yachting, take it to a new level – a level that is environmentally friendly.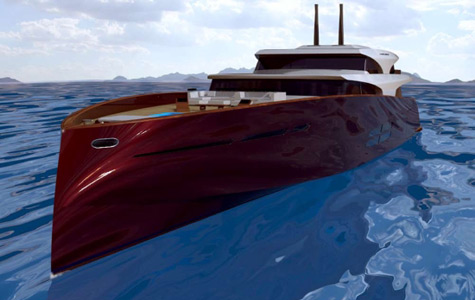 * * *
Foto: Riccardo Pilurzu