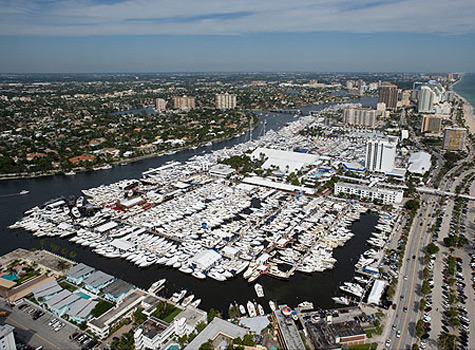 The 2009 International Boat Show will be held in Fort Lauderdale, Florida which is referred to as the "Yachting Capital of the World". This year marks the 50th anniversary of this spectacular yachting event.
Given my immense interest in yachts, I am very excited about this particular event. It is scheduled for the 29th of October and lasts until the 2nd of November. I did some research on this event and discovered that an amazing amount of $3 billion dollar's worth of all types of yachts, yachting accessories, and even yachting electronics will be presented at the event. If you are an avid follower of the yachting industry like I am, this is one show that simply cannot be missed!
I was rather surprised when I learned that the show is so large that it will take six individual sites within the Fort Lauderdale area in order to cover everything. It is expected to cover over three million square feet! Of course, some of the sites are located on land and some of the sites will be located on the water. The wonderful thing about this yacht show is that they are creating it in such a way that individuals of all ages can enjoy themselves. It is going to be very "family friendly". There is going to be a large assortment of seminars, a variety of fishing clinics, many different tours and a lot more!
The whole family will get excited about the yachting industry when they visit the International Boat Show in Fort Lauderdale, Florida. I did a little research to uncover what the seminars are all about and I found out some interesting information. The seminars are part of the "Xtreme Fishing Seminar Series" that are geared to both young people and adults. These seminars will educate those that attend in fishing skills that are required to be successful on the water. Then, they will progress to teach advanced skills as well! There will be gifts and t-shirts offered and best of all, the seminars are FREE!
If you have children, there is no need to find a babysitter – bring them along! On Saturday and Sunday of the International Boat Show in Florida, there will be special clinics offered to children that are ages four to sixteen. This exciting event will include the father and daughter team that hosts the show called "Hook the Future" – Captain Don Dingman and Captain Jacqui Dingman. Children that attend the event will receive a free tackle kit and even a rod and reel from what is called "Fish Florida". Children will learn:
* How to Fish on the Water Column
* How to Select the Right Lure for Fishing
* How to Appropriately Cast
* How to Remain Safe While Fishing
* Information on Fish Habitats
* How to Draw Marine Art
* Information Pertaining to Yachts, and the Yachting Industry as a Whole
I really like the fact that they have so much available for children. It brings young people into the yachting world which is mostly dominated by adults. This way, families can enjoy yachting and fishing hobbies together. The children's activities are sure to be a big hit among parents.
I also researched the tours a little. Individuals may view charter yachts, technologically advanced yachts, yachts designed for those with disabilities, new models and old models that have been updated and a wide range of other yachts. If you can make it to the popular "Yachting Capital of the World" in Fort Lauderdale, Florida, I think you will love taking part in the International Boat Show 50th Anniversary Special!
See how it was last year:
* * *
Related links:
Fort Lauderdale International Boat Show
Foto: showmanagement.com