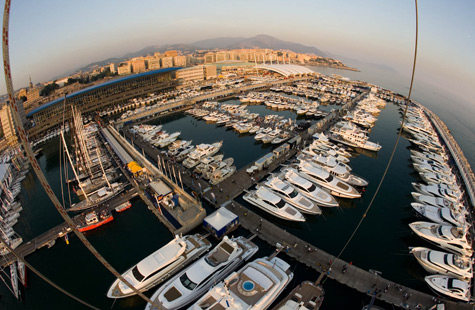 Genoa 49th International Boat Show opens its gates Saturday, October 3, 2009 and is organized by UCINA. This event's main purpose is to promote and develop new yachts and new marine technologies.
Over two thousand four hundred different boats including one hundred and sixty sailing yachts and five hundred rubber vessels will be on the docks. You will be able to see small boats (with the length up to 10 meters) and maxi-yachts. Also there will be a lot of navigation systems, yacht accessories and other products.
Comparing to 1962, when first Genoa boat show was started, exhibition surface has become 10 times higher than its original size (from thirty thousand square meters to three hundred thousand square meters) and grew to three hundred thousand visitors per show! The shore length of the exhibition is over nine km long! Over one thousand four hundred and fifty participants will be in attendance (sixty percent the Italian shipyards, forty percent – foreign companies).
During the show participants will present new information via seminars, presentations, conferences and even concerts. The exhibitions will take place in two pavilions, a four star hotel including a congress centre, four marinas and huge outdoor areas with a view to the sea. The brand new Pavilion B built less then a year ago will feature two floors for exhibitions and one floor for services and offices. Tickets to this show will be sold at fifteen Euros a piece.
You don't want to miss this!
* * *
Related links:
Genoa International Boat Show
Foto: genoaboatshow.com