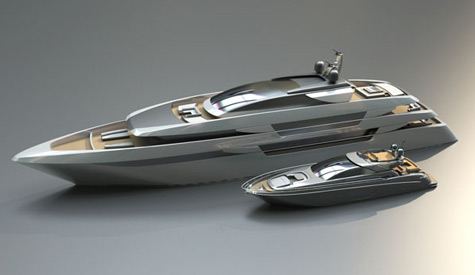 Riva and CRN (an acronym for Costruzioni e Riparazioni Navali), two very famous yacht manufacturing companies that are both part of the Ferretti Group, recently announced their decision to collaborate on a line of new yachts. These yachts will be 50 to 80 meters long and will feature the beautiful exterior and interior design that Riva is famous for, and nearly perfect construction featured by CRN.
It is a known fact that Riva and CRN had a long history of partnerships which goes back to 1970, when the owner of the company at that time (Carlo Riva) decided to switch from the Dutch shipyard Riva had a contract with, to CRN in order for the construction of the new line of mega yachts to be as productive as possible. The switch was made so that Carlo Riva could have more control over the process of creation for his new vessels. CRN was and is the top supplier of high-tech naval systems and best quality products relating to yachts. After the agreement a number of boats were launched including the 23 meter motorboats from the Marco Polo series and the 24-30 meter Vespucci models.
Norberto Ferretti: the chairman and founder of the Ferretti Group noticed that this partnership will definitely bring satisfaction to both the consumers and the producers.
The first model of this new line will be a 68 meter yacht and will be first available to the public and the press for viewing at the 19th Monaco Yacht Show (where Riva presented tremendous 86' Domino). The next project is estimated to be around 50 meters long.
Take a look at beautiful yachts created by Ferretti Group:

* * *
Related links:
Riva
CRN
Ferretti Group
Foto: riva-yacht.com