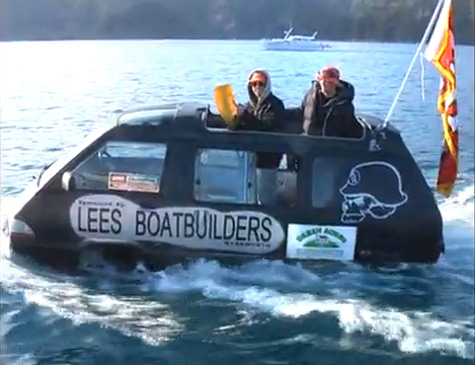 Many people are unaware that there are two men Adam Turnbull and Dan Melling who recently attempted to cross the Cook Strait in a Toyota Tarago and were successful.
The funny thing about this is the fact that Turnbull and Melling sailed across the Cook Strait with no problems like they were on a luxury yacht.
I happen to catch the news that this was being attempted and couldn't help but think, "With this yacht design they will never make it across" wow was I ever wrong. They left the Waikawa marina in New Zealand at 4am, entered the Cook Strait and approached mana marina at about 1:45 pm where many people were gathered.
They made it to mana marina about an hour after they were schedule to arrive, because they changed course to avoid conditions that were choppy in the south.
Another really neat thing that happened on the trip that Dan and Adam said was that somewhere around the halfway point they had dolphins join them. Can you imagine what the dolphins were thinking seeing a van go by in the water like a luxury yacht? I would follow that sight too!
All the scepticism, even mine that this could be done was put to rest by Melling and Turnbull.
Something on T.V. that Melling had seen was what inspired these gentlemen to do this.
Melling told Radio New Zealand that they just kind of put things together one by one and it started to shape itself.
No one including myself ever thought that two men could take a Toyota Tarago and use a yacht design to turn it into a sailing machine.
Let's see how it was: