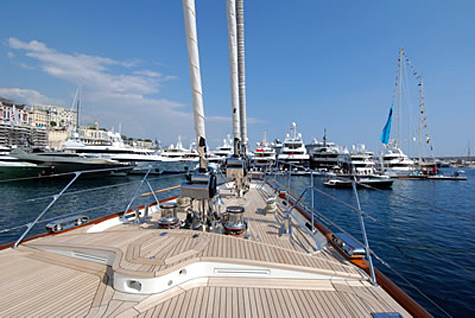 Late September each year, the tiny Mediterranean nation of Monaco is the scene of the world's premiere yacht show. Over 500 companies are in attendance each year, including the biggest names in yachting, all demonstrating the latest in innovative design, along with a hundred of the world's finest yachts. This year, the event will be held from the 23rd to the 26th of September.
The annual attendance approaches 30,000 yachters, industry professionals, exhibitors, media professionals covering the event and of course, many thousands of people who simply love yachts. Attendees come to the Principality of Monaco from every corner of the world for this annual event, now in its 19th year.
Despite the global economic downturn, the 2009 Monaco Yacht Show has drawn as much interest as ever, with the show's 9,000 square meters of exhibition space being completely booked up. This a testament to its position as the most important event in the world of yachting and the value placed on it by vendors and enthusiasts alike. Even with the return rate among exhibitors being a little down from last year's event, the many exhibitors who had been on a waiting list and returning exhibitors booking more space has made up for the shortfall. The one hundred berths for yachts on exhibit at the event are in place and have been booked and there is a long waiting list for any openings which may come up.
The 2009 Monaco Yacht Show continues its commitment to showcasing the best and latest in yachting and to socially responsible practices. Since 2005, the show has paid an ecotax to contribute to the goals of the Carbon Neutral Initiative and prints all public relations documents and advertisements for the annual event on recycled paper.
The Monaco Yacht Show also supports the Association Monégasque contre les Myopathies (AMM), an organization which funds research on Duchenne muscular dystrophy, a disease which afflicts children. Since 2001, the Monaco Yacht Show has provided support to the organization through a donation of 50% of admission fees as well as a charity auction held at the event for the past few years. 2009 will see the third Only Watch charity auction, which will feature about thirty of Switzerland's finest watchmakers. These expert craftsmen have created some exquisite watches which will be on display September 23rd  and 24th, with the auction to be held on the 24th.
* * *
Related links:
Official website of Monaco Yacht Show 2009
Press Release: Monaco Yacht Show – more than ever the referential event for the world's luxury yachting community
Foto: Pierre Pettavino